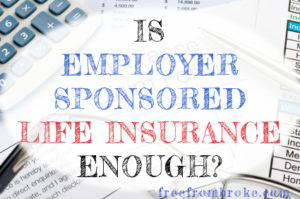 Many employers offer basic life insurance to their employees as part of the employee benefits package. While it varies, this life insurance policy is usually a set amount or the equivalent of one year's salary and is offered at a very low cost or even free. Though that may be enough coverage if you are single with no dependents, many companies offer the option to purchase a supplemental policy.
The Drawbacks of Buying Life Insurance Through Your Job
While getting a life insurance policy through your employer may seem like the most convenient option, it's not without its drawbacks. If you were to lose your job, you would lose your life insurance coverage. You could also have a gap in coverage if you were to quit your job and start a new one.
Another thing to consider is whether your company's standard life insurance policy is large enough if you have a spouse and other dependents. If not, you may have to purchase a supplemental policy from an outside entity.
Benefits of Getting Life Insurance Through Your Job
If you have a preexisting medical condition such as diabetes, it may be more difficult to qualify for a traditional term life insurance policy. If this is the case, it would be beneficial to you to obtain life insurance policy through your employer, since it's usually easier to get approved by your employer than an outside provider.
Another major benefit of getting life insurance through your employer is the convenience. For example, you may know you need to get life insurance but simply haven't gotten around to it yet. Work-sponsored plans are a great solution to this. Last, the cost of a life insurance policy purchased through your employer is often much cheaper, and many are free.
Determining the Coverage You Need
Putting it simply, you need to buy enough life insurance to cover your financial obligations, like funeral costs, medical bills, and future living expenses for any dependents. For those with families and other dependents, a good rule of thumb is to have a term life policy of about 10 to 12 times your annual income. In this case, a life insurance policy obtained through your employer should be considered a supplemental policy to another larger policy that you own.
Additionally, as your salary and living expenses increase, your life insurance coverage should, as well. However, once you have paid off your home and put your children through college, you may decide to reduce your policy amount.
On the other hand, when you are young, if you are unmarried, or have no dependents, you may not choose to carry life insurance at all until you start a family.  If you do this, make sure you have enough set aside to cover your burial costs, so it's not a burden to your friends and family.
If you would want to provide for your children to have the option to go to college, you should also consider the amounts you will need to cover the costs of a college education.
Choosing a Life Insurance Policy
If you decide to not obtain life insurance through your employer, or if you are searching for a supplemental policy on top of what your workplace already offers, be sure to shop with a Life Insurance broker so the broker can review multiple options for you. Captive insurance companies such as AAA, Farmers, State Farm and Nationwide are great auto and home insurance companies but typically don't represent the best value in Life Insurance. Contacting a broker is usually the best bet as a broker can shop for you can compare the best rates for you based on your specific needs.
Keep in mind that life insurance providers do a risk assessment when they insure you and you may be declined for serious health conditions or charged a higher rate if they feel that your risk is greater.
Term Life the lowest rates and provides coverage for a certain time period, like 10, 20, or 30 years. Term life insurance has no cash value, and your beneficiaries only receive a payout if you die during that term. Once the term is up, you will have the option to renew your policy, often at a higher rate. You can also convert your term life insurance policy into a whole policy.
Whole life insurance policies also accrue tax-free dividends, also known as the policy's cash value. You can also borrow against the amount of the policy. The premium also stays the same, though it's more expensive than a term life policy.
Finally, remember: there is no excuse for not having life insurance if you have dependents, that rely on your income for maintaining their lifestyle and financial future.
If you would like to learn more about Life Insurance and work with a specialist on navigating your options, please contact our Life Insurance specialist: Kevin Leipsic at: [email protected] and or 530.320.3617.