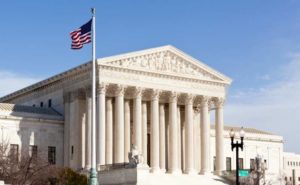 The U.S. Supreme Court's recent denial of a Trump administration bid to expedite a legal challenge to the Deferred Action for Childhood Arrivals (DACA) program means, for the time being, California employers can continue to legally employ Dreamers with DACA status.
Status quo for the DACA program also means that Congress is unlikely to take up comprehensive immigration reform anytime soon. This issue is critical to California employers because more than 200,000 Dreamers live and work in the state.
"As we've said for years, we need a permanent legislative fix on immigration," said Allan Zaremberg, California Chamber of Commerce president and CEO. "California's workforce and our ability to compete in the global economy requires comprehensive reform that will bring certainty to employers, employees and families."
DACA protects from deportation some 700,000 young immigrants who came to America as children and allows them to legally work in the United States. President Donald R. Trump rescinded the program last September, effective next week, expecting Congress to resolve the issue legislatively.
While Congress has struggled with a solution, immigrant advocates along with several states, including California, sued on constitutional grounds to block the President's shuttering of the program. In January, a district court judge barred the administration from ending the program for individuals with DACA status, but precluding new DACA applications from being accepted.
The Migration Policy Institute (MPI) placed the number of California DACA recipients as of September 2017 at 197,900 with an estimated 384,000 individuals meeting all criteria to apply, for a program participation rate of 51%.
EdSource on September 5, 2017 reported that 242,339 young people received DACA status between 2012 and March 2017, according to MPI. According to EdSource, officials estimate that 72,300 undocumented students are enrolled at the state's public colleges and universities (60,000 at community colleges, 8,300 at California State University and 4,000 at the University of California) with about half having DACA protection at the time.