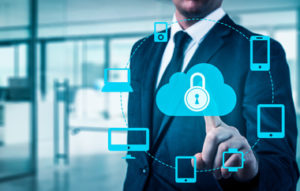 If you properly back up your digital files, they'll never fade, get lost, feed a fire or float away in a flood. Are you worrying about trusting the cloud with your taxes and other important financial papers? CPAs and other financial professionals know the importance of keeping records, and now the idea is to scan the originals and then shred the paper versions. For many records, digital is the way to go.
What is the risk associated with digitally storing important papers such as tax returns? Data loss. Almost everyone has suffered from a hard drive crash or a stolen laptop. Losing your tax receipts can be expensive if you are the subject of an audit. The solution? The cloud. You can consider cloud storage options such as Microsoft One Drive, Google Drive and Dropbox. All offer free storage space. There's plenty of room for every piece of paper you've generated.
Obviously, you're concerned about the security and privacy of your cloud-stored files. Here are some simple rules to follow:
1. Always use strong passwords — for your computer, your cloud account, and your home Wi-Fi.
2. Always keep your anti-virus software up to date. Privacy is even more important when it comes to cloud storage:
You have to trust the service you sign up for to keep your files safe and secure and away from prying eyes.
It's important to know that your provider isn't rifling through your files.
If the cloud service's servers ever are hacked, you want to know that your tax returns and financial documents are safe. Your cloud storage provider should offer encryption and other security tools to keep your data safe.
3. Encryption works. Whether you want to protect your documents from potential identity thieves or want your files locked down in case your laptop or phone is lost or stolen, encrypting them is the only way to make sure you're the only one with access to them. And you want to do this without a ton of effort.
There are cloud services that have encryption built into their technology. Let's take a look at some of the hallmarks of a suitable cloud service:
All your files are encrypted locally on your computer and then uploaded to servers, and any changes you make to your files and folders are synced with the locally decrypted versions before being secured and uploaded.
The encryption process takes place locally, so the host has no way of knowing what you're storing.
Since your data is encrypted locally with a password you choose, the service has no way of decrypting it to see what's in your data store.
When your remote session is over, the password is destroyed so you can be comfortable that you're the only person who can access your files.
There are other safe ways of storing your data; the point is to ask questions about how secure your provider is and make sure you are the only one who can access the documents.
The most secure cloud storage solution is the one that you have complete control over. Using cloud storage inherently means giving your files — encrypted or otherwise — to someone else.
Whatever you do, make sure to take your security and privacy into consideration before you upload anything to the cloud. You don't have to give up convenient access to your files anywhere you go to protect your privacy.
Need to speak with a Tax Expert that specializes in working with California Contractors? Give us a call and we can provide you with a Complimentary Consultation. Call Kevin at: 530.320.3617.